Peter Kapiris
Date of Birth 25th November 1963
Resides Melton, Victoria
Married with 1 Girl, 2 Boys
I've been drag racing for over 10 years now and had three cars in that time, below is some of history on how ended up The Batmobile Studebaker Top Doorslammer.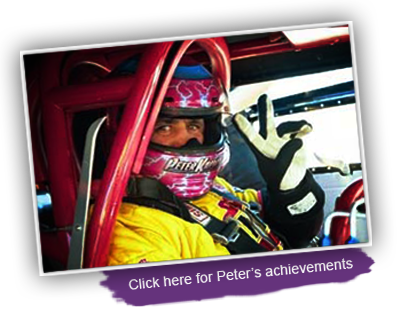 Chevrolet Beretta
I started out drag racing in 1990 with a Chevy Beretta that I bought from John Taverna, the famous race car builder. These cars about the size of an LH Torana. The car went through three different paint schemes: green, dark yellow with a purple interior and gull-wing doors: the type that swing upward like on some Italian exotics. This configuration only lasted for two race meetings because the upward-opening doors were so awkward and couldn't open properly inside the garages at the race tracks. Plus, the crew kept bashing their heads on them! After this we sand blasted the car and ruined it, so we had to re-body it. At this point we painted it light yellow. The Beretta ran a small block Rodek engine of 400 cubes and a Powerglide. After some engine development the 'glidewas having trouble handling the extra power so we changed to a Lenco and installed a 4-link rear end set-up. The best result we got out of the Beretta was a 7.1 @198mph at the Calder Park Nationals. But we blew it up: threw a couple of rods out the side and that was the last time we raced it.
Holden Statesman VQ
I bought the Statesman in 1994 from Rob Broadbent as roller (no motor or 'box): it was a VQ model. We totally rebuilt the car and made the body removable: steel body and fibreglass doors and front section (mudguards and bonnet). The powerplant we chose was a 518 cube Keith Black bolted onto the front of a Lenco After some refining and learning the car we snared the '97 Nationals which was fantastic. Mate, I had one wild ride there. I did a major burnout and got up a bit of a tail wag that put the car on the two left wheels, then the two right wheels, and so on. I thought the thing was going to flip over but I kept it upright. The best effort in this car was a 6.70 @218mph on a solo run. I was the top Qualifier at the 'nats this year and was looking strong to take the title. I was lined up to run Troy Critchley in the Final but ended up doing it with a solo pass. But the car was 180 pounds too heavy so after this event we did a full re-body job on it, this time in carbon fibre, and fitted tubs. This was a big job and cost around $40,000. To make the new body we took the old one off and mounted it on a specialsteel frame we'd built. We then went over it doing filler work and repairs to get it right. Next we made the body moldings and window frames that are on normal cars, out of body filler, and did a real pro job of painting the whole car in 2-pak, followed by a cut and polish. Once we had the thing look great we poured fibreglass over the whole car, effectively using it as a mould. So, once it was completely covered we had a perfect mould of the car's shape. Then, when the 'glass had set, we removed it and threw the original body away! I did three season in that car during which time we converted it to left hand drive. This gives better ballast for keeping the car's nose on the tar by putting the driver's weight over the side of the car that experiences the torque-ingaction of the engine. You'll notice that its always the left front corner of a drag car that lifts the highest off the ground whilst launching off the line.
1953 Studebaker Champion
So how did I come to have THE BATMOBILE? Well, sometime in 1997, we were racing at the now defunct Ravenswood track in Perth and was lined up for a run behind Scotty Cannon. He was in a newly-built Murray Anderson chassis'd car doing its first full pass. We were all running in the 6.40's and 6.50's, and Scotty then reeled off a 6.32 which was really haulin' in those days. From that moment I knew that my next ride had to be in an Anderson car. I had some spirited discussions with Jeff Cutajar, my full-time team engineer, about what sort of body it should be. I wanted it to be a HSV Holden, I really love Aussie metal, but Jeff finally convinced me to go for a 'stude. THE BATMOBILE was the first car that Murray had built since returning to Australia, and it took 6 months to finish. We fitted a brand new engine combination which was the handiwork of our engine builder and team member Ian Cleland. We started off with a PSI screw blower (super charger). These make a lot more power than a roots blower which producepower to a certain level then fade, but they're more manageable and consistent. Anyway, we went for the screw blower. But any drag racing junky knows that making the ponies isn't the hard part, getting it to the track is just as tricky. And for well over a season we struggled with this combo. The car had too much power, it shook on most passes and I usually had to abort. The shaking cracked headers, wheelie bars, even the windows! We then changed to a roots blower which helped the problem but didn't fix it. So, we before one of the rounds at Willowbank we hired the track for three days. We took a big bunch of stuff: fuel pumps,cams, you name it.... and guess what, the new cam fixed the problem. From that point we went faster and faster. Meanwhile, we put our PSI blower "on ice" whilst we nutted out a new fuel system for it.Ian Cleland manufactured a totally new design fuel control valve. It controls and meters the volume of fuel through thevarious injector nozzles right across the range of engine RPM, road speed and gear-selected. Mid 2001 we switched to a smaller cube engine and a screw blower with Ian's Inky Valve. Don't ask me why its calledthat, our good friend Victor Bray named it and its stuck. And if you've seen our latest results at Kwinana (1st December 2001) you'll know what that beautiful Inky Valve is capable of.....a World Record!